Your guide to the 2-day, 3 track meeting:
Now CDx partnerships are being announced on a weekly basis and industry news emerging across immune-oncology, neurodegenerative, metabolic, autoimmune and rare indications the stakes are high. See how attendees gained a comprehensive coverage of the latest biomarker driven science, clinical data and innovation from 100+ thought leaders providing a framework for more effective delivery of life saving therapeutics with commercial potential.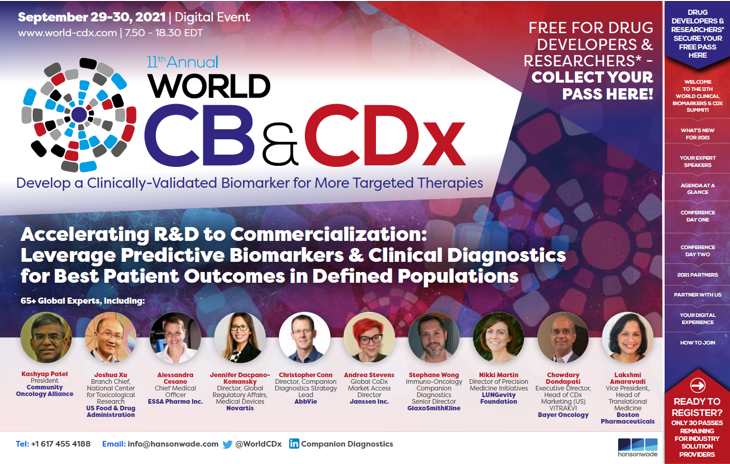 "Eye opening experience and ground breaking findings revealed"
Olaris Therapeutics
Download your copy of the full event guide for:
Exciting insights from precision medicine experts spanning early biomarker development, clinical strategy and effective commercial delivery to accelerate your development of breakthrough commercially viable candidates
Exclusive lessons spanning cell and gene therapies, bispecifics, neoantigens and more, and the potential for CDx development in oncology and beyond providing translatable biomarker learnings across indications and modalities
The latest thinking on earlier regulatory planning to streamline your strategy and de-risk biomarker assay selection and transition to a CDx and PMA
Insights into the application of emerging patient-derived organoid and xenograft models, liquid biopsy techniques and AI/ML powered precision drug development to feed end-to-end innovation and a competitive edge into your Rx-Dx strategy
Full breakdown of interactive roundtable sessions, scientific poster opportunities, case studies and networking opportunities for you to learn, debate and share your ideas!
Hear how your precision medicine ecosystem is evolving to overcome complex biological problems at earlier disease stages – Stay ahead of the curve and download your copy of the agenda today!