Rama Boyanapalli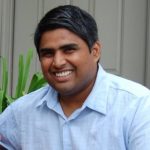 Company: Wave Life Sciences
Job title: Director, Bioanalytical & Biomarker Development
Bio:
Dr. Boyanapalli currently leads a group at Wave Life Sciences in assessing pharmacokinetic biomarker, and immunogenicity of oligonucleotide therapeutics.
Prior to joining Wave Life Sciences, Dr. Boyanapalli worked at Takeda, via legacy Shire Pharmaceuticals, as a Senior Scientist. At Shire, he was a program team lead for bioanalytical and biomarker development strategies. He previously held roles of increasing responsibilities at Nivalis Therapeutics in biomarker discovery and development in cardiopulmonary diseases. He also worked at RoMonics and Boulder Diagnostics, Boulder, Colorado on point of care assay development and product delivery divisions.
He held various positions of increasing responsibilities working on drug discovery, molecular and cellular assays, biomarker, immunogenicity, PK / PD assay development.
Dr. Boyanapalli a earned his PhD in Biology from Bowling Green State University and completed a post-doctoral fellowship in Immunology and Biochemistry at the University of Colorado.