Leslie Hoyt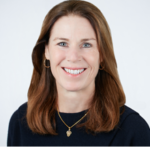 Company: Olaris
Job title: Chief Commercial Officer
Bio:
Leslie is a recognized healthcare leader in the local Boston area and nationally for the last 30 years.  As COO of large integrated provider organizations including CareGroup, she is adept at contracting on behalf doctors and hospitals to take on capitation, and in building innovative solutions to improve care and reduce medical expenditure.
The need to innovate to ensure success under risk contracts led Leslie into healthcare technology and eventually to the biopharma marketplace.  She was a founder of Dovetail Health, a company that brought pharmacists into homes after hospital admissions to prevent expensive re-admissions, which was acquired by Optum where she would go to work as a Senior Vice President for Optum.
Now back in the Boston area, she in leading operations and the commercial strategy for Olaris, a start-up diagnostics company that is using their metabolomics platform with machine learning to produce "Biomarkers of Response".  This blood test will readily differentiate patients that will respond to a particular drug from those that will not.  Bringing her career full circle, this game-changing solution is sure to reduce medical expenditure and improve the quality and outcome of care for cancer patients.