Hakan Sakul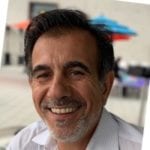 Company: Pfizer
Job title: VP & Head, Diagnostics
Bio:
As VP of Diagnostics, Hakan leads Pfizer's Diagnostics programs.  Working with Pfizer's senior leadership, he helped to develop Pfizer's diagnostics strategy and founded the Diagnostics Group.  Under his leadership, companion diagnostics tests accompanied 5 Pfizer drugs to global markets so far.  Hakan's career path included human genetics, statistical genetics, and pharmacogenomics.  He led Pfizer's flagship companion diagnostics program (Xalkori®) to simultaneous drug/diagnostic approvals in 2011.   <br>
As member of Board of The Personalized Medicine Coalition, Oncology Advisory Board of Luminex Corp., and Governor Brown's Advisory Committee on Precision Medicine, his contributions to precision medicine and diagnostics are internationally recognized.   <br>
Hakan received BS and MSc degrees from Ankara University, PhD from University of Minnesota (Rotary Foundation Scholar), and conducted postdoctoral studies at University of California.  He authored over 30 refereed scientific articles and many other papers.  He is keenly interested in diagnostics and related medical technologies to advance individualized healthcare.