Benoit Destenaves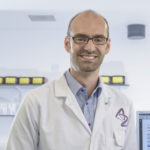 Company: AstraZeneca
Job title: Director, Precision Medicine Lead
Bio:
Benoit Destenaves has 18 years of experience in the biotechnology and pharmaceutical industry specializing in the analysis of molecular biomarkers.
Benoit started his career in 1999 working for Genset, a French Biotech company that specialized in pharmacogenomics. He then worked for Serono/Merck Serono where he held positions of increasing responsibility linked to precision medicine in oncology, endocrinology and fertility.
He joined AstraZeneca in 2013 to lead the molecular diagnostics labs and Pharmacogenomics group within the Precision Medicine and Genomics Function where he developed the group's focus on novel approaches (ctDNA, NGS) for companion diagnostics. In his current role, he leads strategic diagnostic and precision medicine projects for AstraZeneca.