Women In Precision Medicine
Monday September 9 | 8am – 12:30pm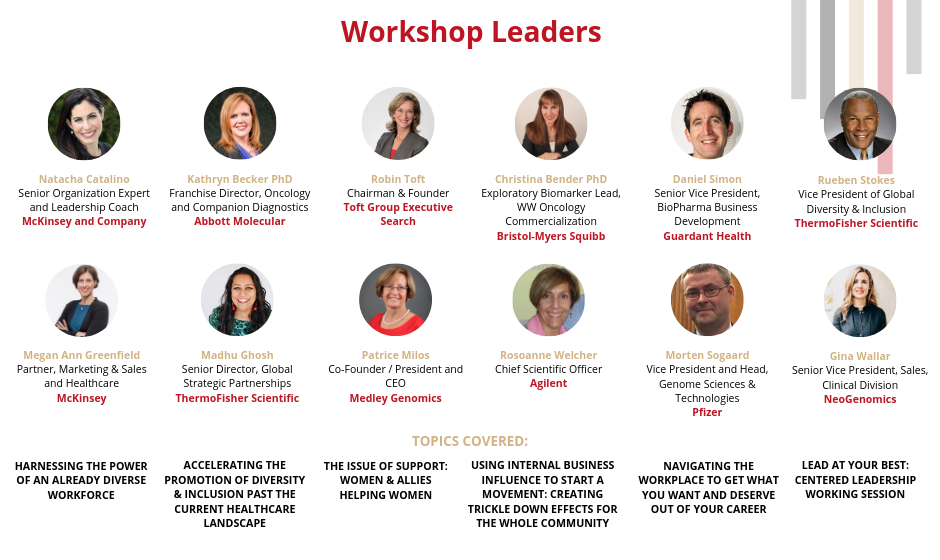 Several studies over recent years have concluded greater gender diversity in C-suite positions is tied to achieving higher margins, bigger profits & better total return to shareholders. Despite this, there is still a relative shortage of women in key business positions. As of January 2018, just 25 of Fortune 500 companies had female CEOs. That's down from 32 women in 2017.
The personalized healthcare community is built upon the premise of providing a better standard of care. It's time to question whether this same standard of care is a priority when it comes to the employees which are driving this innovative field forward. We have a social responsibility to ramp up advocacy for the creation of a level playing field and to move businesses & society in the right direction towards gender neutrality.
Women in Precision Medicine will unite lab, Dx and pharma senior leaders who have the influence to adopt change in their organizations. Throughout the event, collaboration will be fostered, deeper discussions prompted, and meaningful solutions provided for organizations looking to recognize and champion the achievements of all.
It's time for the community to connect. The knowledge imparted on this day has the opportunity to have huge reverberating effects across the personalized healthcare space to create inclusive and empowering working environments within your organization.
Register your interest now, or download the full event brochure for more information.