EVENT POSTPONED TO 2021
To safeguard against COVID-19, we have taken the decision to postpone this event. We are working with the venue to schedule new dates in 2021. Register your interest here to get updates.
Whilst we can't meet in person in 2020, we've taken the conversation digitally @ the 1st Digital Clinical Biomarkers & World CDx (29 September – 01 October, 2020) - view more information here.
Download the Clinical Biomarkers & World CDx Summit Full Event Guide
Developing targeted therapeutics has never been more competitive. This fall, meet with fellow decision makers from the industry's trailblazing teams and advance your pipeline candidates into clinically effective, market-dominating therapies.
Download your copy of the full event guide for:
Fresh insights from thought leaders in translational, clinical and commercial development to make sure you stay ahead of the competition and deliver break-through pipeline candidates

Exclusive lessons including preparing clinical trials for unexpected crises, Rx-Dx co-development strategies, the rise of T-cell biomarkers for targeted therapeutics and much more to take back to your team

Sneak peek into the 52+ data-driven talks and 6 interactive panel discussions led by the likes of Sanofi, Merck, AstraZeneca and Bristol Myers Squibb
And so much more!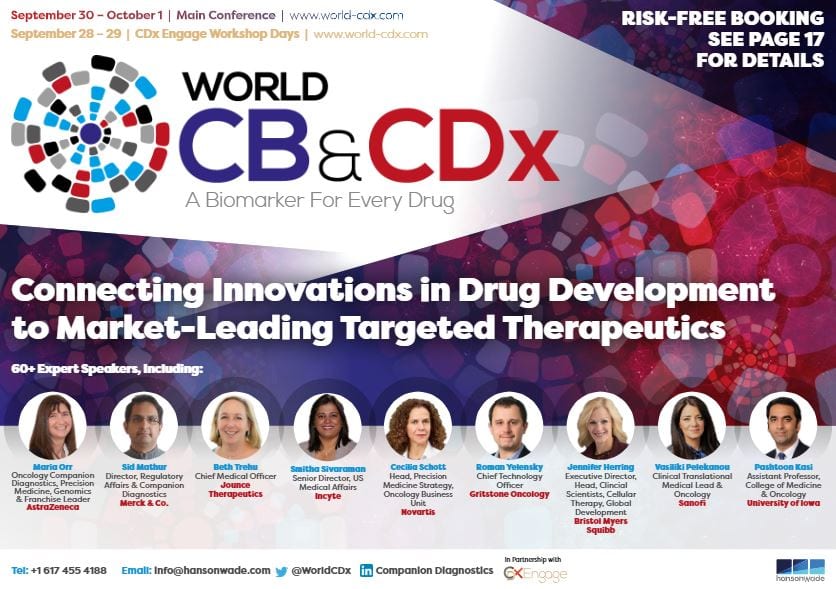 "Eye opening experience and ground breaking findings revealed"
Olaris Therapeutics