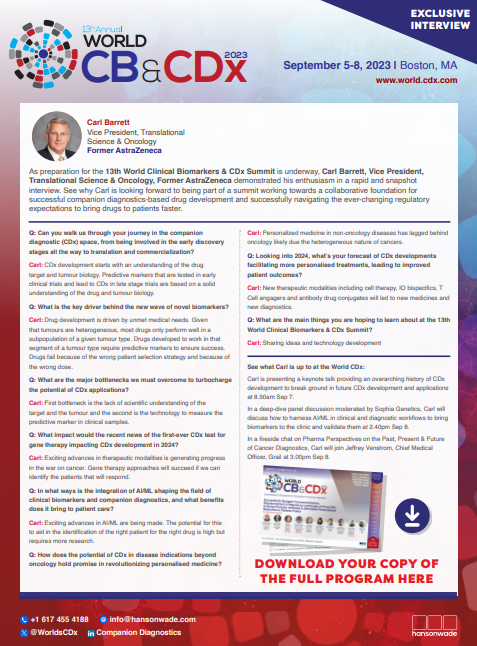 Interview with 
Carl Barrett
Vice President, Translational
Science & Oncology
Former AstraZeneca

Interview with Bayer Oncology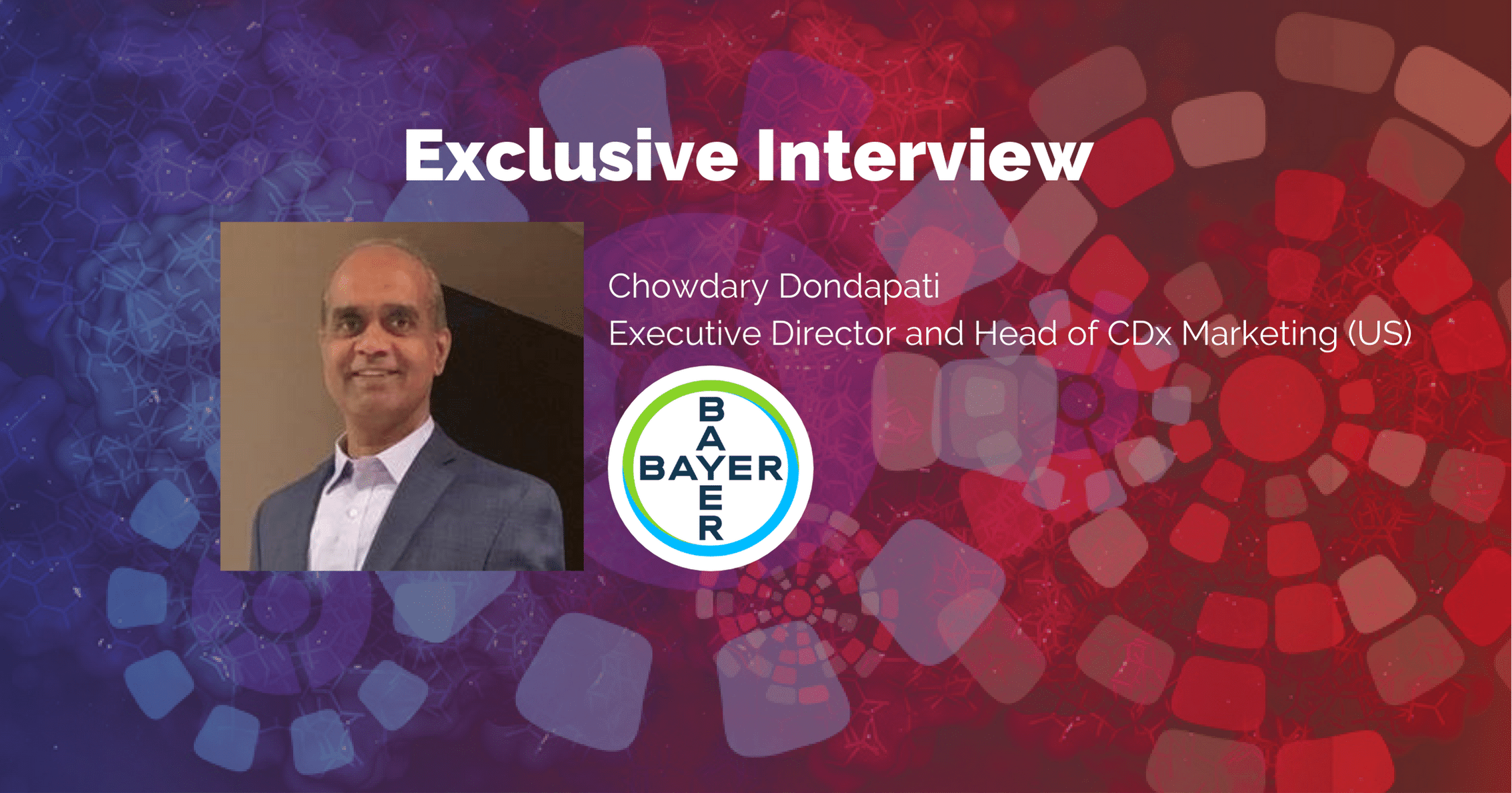 Measuring Value in the Diagnostic Test Pathway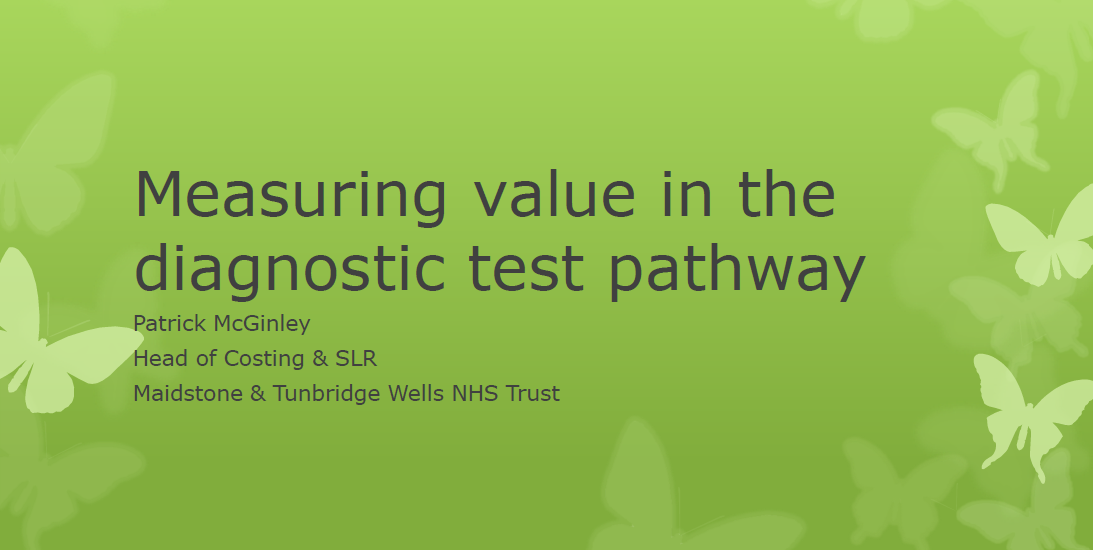 As we build up for the hotly anticipated 11th World Clinical Biomarker & CDx Summit in September, we met with expert speaker Chowdary Dondapati, Executive Director and Head of CDx Marketing (US) from Bayer Oncology to put into context some of the drivers behind precision medicine's evolution as well as the core challenges professionals are looking to address to see more patients have access to diagnostic-enabled therapies.
Speaking on the advent of genomics, significant technological advances and the value of translational research groups for creating opportunities to further Drug-Dx innovation, we took a deep dive into industry's commercialization planning and how stakeholder collaboration plays a crucial part for the synchronous delivery of transformative therapies to market.
The reimbursement of precision medicines is a conversation front of mind for many looking to carry out global trials and ensure widespread access to approved medicines. Focusing on the European diagnostic test pathway, we're pleased to share a past presentation from the 11th Clinical Biomarker & CDx Summit Europe led by Patrick McGinley, Head of Costing & SLR at the Maidstone & Tunbridge Wells NHS Trust to delve into current reimbursement systems and whether these recognize the value of diagnostics and reward the use of biomarkers.
Biodesix Webinar: A New Era in Precision Medicine
Click play on the webinar above to watch!
Watch the Biodesix hosted Webinar: A New Era in Precision Medicine - Uncovering the Depth & Breadth of the Plasma Proteome with Novel Proteomic Technologies.
Providing perspectives from leading experts in the field, join this webinar to learn how Seer's Proteograph™ Product Suite enables the uncovering of more proteins without the need for upfront depletion and fractionation steps. Plus, examine the challenges and current state of biomarker and translational research, and discover how to stay ahead of the curve by hearing key considerations on how to obtain novel insights on biological processes.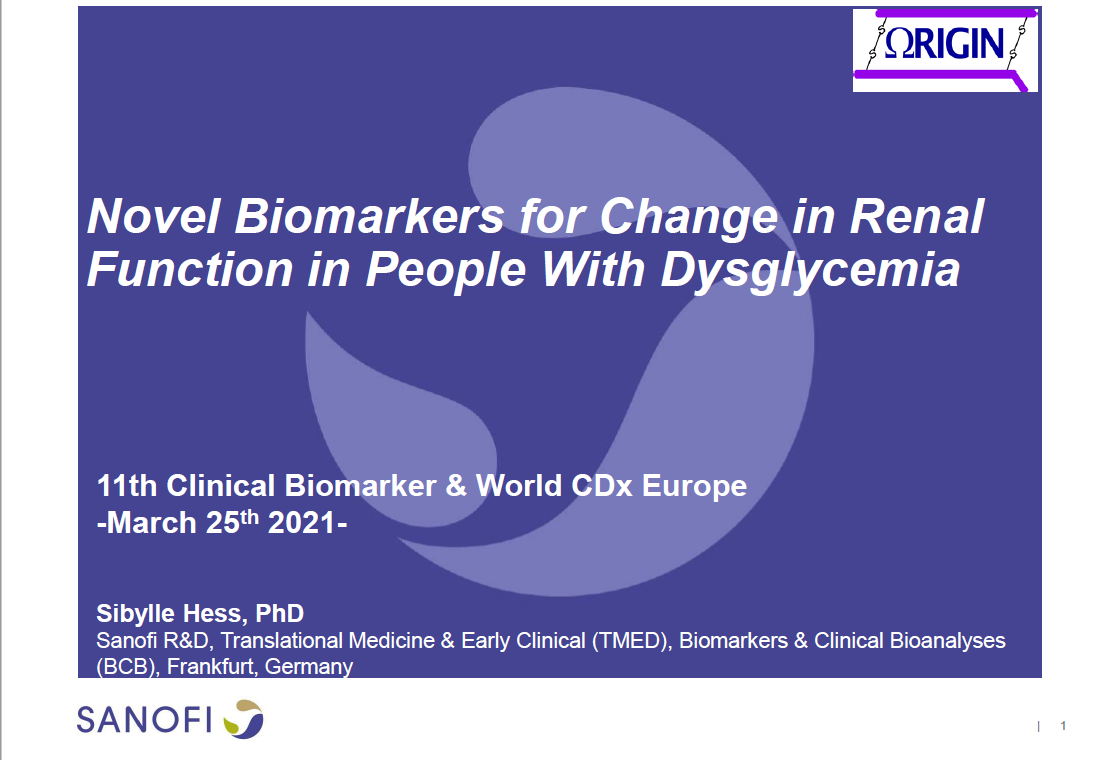 As precision medicine goes from strength to strength in disease areas beyond Oncology, it's important to put a spotlight how biomarker-driven drug development is transforming the entire healthcare landscape.
As such, we're pleased to be able to share two presentations from the 11th Clinical Biomarker & CDx Summit Europe earlier this year from Sibylle Hess, Senior Clinical Biomarker Expert, R&D, Translational Medicine & Early Development, Biomarkers & Clinical Bioanalyses at Sanofi and Naim Alkhouri, Director of the Fatty Liver Program, VP of Academic Affairs & Chief of Transplant Hepatology from Arizona Liver Health.
Read more to hear how Sanofi is investigating novel biomarkers for change in renal function in Dysglycemia and the potential identification of future therapeutic targets for renal protection. Then learn how Arizona Liver Health is using combination biomarkers and combination medicines in NASH and the use of new diagnostic tools to assess disease severity and treatment response.
Arizona Liver Health Presentation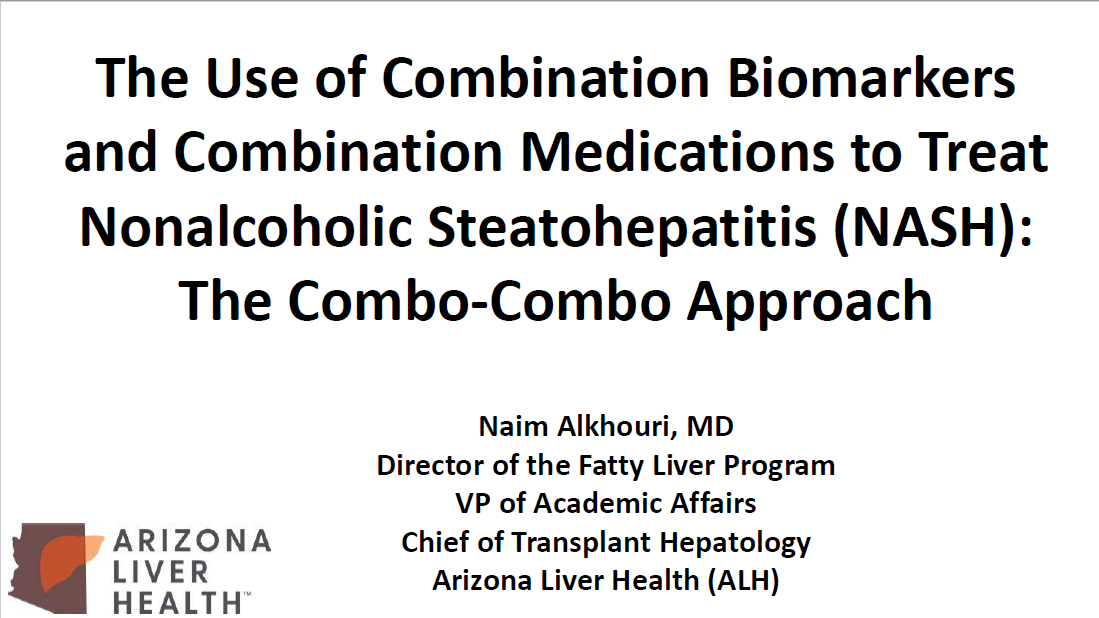 Interview with Jude O'Donnell
As the industry sees a trend towards CDx adoption earlier in the drug development process, we sat with Jude O'Donnell, Head of Regulatory Strategy at Almac Diagnostic Services to discuss current thinking on identifying predictive biomarkers early and planning ahead to see expedited drug development down the line.
You can read the interview for yourself here to tap in to today's key CDx commercialization concepts as well as the regulatory and reimbursement fluctuations impacting assay development and validation.
"….Planning for change is another crucial aspect we recommend to all our Biopharma partners developing a therapeutic, particularly with respect to banking of tissue and derivative material from clinical trials. The availability of specimens from the intended use population can determine the success or failure of a device programme"
Click play on the webinar above to watch!
This Abcam hosted webinar showcases how you can overcome the challenges of getting mIHC ready for IVD use. The high failure rates of new anticancer drugs in clinical trials highlight that the standard cell culture methods used to evaluate new compounds do not faithfully reproduce human biology, and therefore, do not accurately represent the disease process.
In the development of new oncology agents, one of the most important criteria is to determine efficacy and toxicity of compounds advancing into the drug discovery pipeline. This webinar delves deep into how researchers can be empowered to exclude ineffective compounds while selecting agents with a high probability of success in the clinic and discusses the advantages of a 3D culture approach over traditional methods, with particular emphasis on the importance of tumor microenvironment and tissue-relevant extracellular matrix (ECM) in obtaining accurate drug response data.
Meet Your Expert Speakers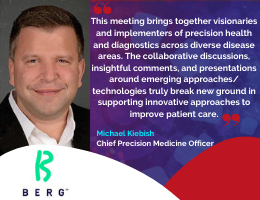 The 2021 World Clinical Biomarkers & CDx Summit has just been launched so you can now see which experts you will have the opportunity to meet in September!
Spanning early biomarker discovery & development, through to drug-Dx commercialization, hear why our speaker faculty is excited to participate in this world-renowned summit for the precision medicine community.
Learn why leaders from the likes of Janssen, Bayer Oncology, AbbVie, Jounce Therapeutics, Spectrum Pharmaceuticals will be joining in September.
"The ability to connect and share information with industry peers is paramount in the field of precision medicine. This transference of information enables health care providers to best serve their patients seeking to receive the knowledge and directly benefit from the applications of precision medicine…"
Jennifer Dacpano-Komansky, Director, Global Regulatory Affairs, Medical Devices, Novartis
Liquid Biopsy News - Infographic
Over the past year we've seen the clinical applications for liquid biopsy testing widen and investment pour into the space. With the potential to address the pitfalls of tissue analysis and allow detection, earlier diagnosis and disease monitoring, liquid biopsies are set to make a significant impact on the future face of personalized care.
To better understand how the field is evolving and pin-point key areas we're likely to see progress in the near-future we've been listening to our Biomarkers & Diagnostics community at our digital meetings over the last 12 months.
We've collated answers from in-event polls so you can find out the latest liquid biopsy in oncology & beyond.
Identification of a Predictive Biomarker for an Immune Agonist; Lessons Learned From Vopratelimab
At last year's Digital World CB & CDx Summit Beth Trehu, MD, FACP, CMO, Jounce Therapeutics shared lessons learned throughout identification of a predictive biomarker, reflecting on overcoming challenges throughout the association of a biomarker with approved clinical outcomes for their lead immune agonist agent.